The anti-carbonation product lines of MC- Bauchemie India offer ultra-modern surface coating solutions relating to the protection and colouring of concrete surfaces.
Emcecoloflex – Breathable Anti Carbonation Coating for Concrete structure
Cracked concrete components or those susceptible to cracking are highly likely to suffer from damage caused by moisture penetration. These cracks offer an easy path for the ingress of water and chlorides into concrete whether the cracks are static or dynamic. The application of high-performance anti-carbonation coating can effectively safeguard your structures against such problems. The coating is designed to protect the upper layers when the concrete and other materials move and shift. It can withstand stress and movements in the substrate and possesses excellent adhesion to many types of substrate. It also has good chemical and abrasion resistance and can be applied over a wide range of temperatures.
Emcecolor-flex anti-carbonation coating from MC Bauchemie is perfectly fitted for use on concrete structures and buildings where enhanced cracking-bridging properties are required. It is an acrylic polymer modified elastic elastomeric breathable, surface protection product. It has crack bridging and UV-resistant protective features that shields against environmental degradation. It is also water-based and solvent-free. It provides excellent protection for concrete structures such as bridges subjected to adverse climatic conditions. It provides excellent protection for concrete subjected to adverse climatic conditions like in cooling towers, chimneys, bridges, buildings, etc.
The product is waterproof and has a low water vapour diffusion coefficient. This makes the coating breathable. It also has a high resistance to diffusion of carbon dioxide and thus has good anti-carbonation properties. In addition, it is advantageous in case of repair and protection of cracked facades, exhibiting hairline and shrinkage cracks.
Properties;
Crack Bridging coating for strained facades and concrete surfaces based on modified pure acrylic dispersion.
Resistant to carbonation, Water repellent
Seamless membrane with breathing capacity
Weathering and ultraviolet (UV) resistant
Solvent-free, safe and non-corrosive
Application by roller or spraying
Certified in accordance with EN 1504 part 2
Certified in accordance with IRC SP:80-2008
Applications;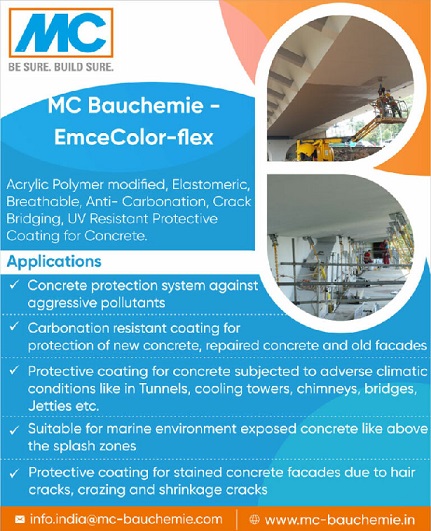 The right selection of coating products is pivotal for concrete structures. The anti-carbonation coating products of MC- Bauchemie India offer ultra-modern surface coating solutions relating to the protection of concrete surfaces. The construction chemical applicators are sure to find a tailored solution to their specific requirements. All the products are water-repellent, open to vapour diffusion, carbonation-retarding and resistant to UV, soiling and weathering.
To explore their full range of systems, visit our website: www.mc-bauchemie.in or call at +91 22 2757 0803 and benefit from their expertise!