Liquid applied membrane for waterproofing of concrete structures
Concrete expands and shrinks causing cracks under high or low temperatures causing water seepage. Construction defects, the existence of critical points for waterproofing or wear resulting from rain are often the cause of infiltration of water, leading to weakening of the concrete structure. Without proper treatment, it is only a matter of time before leaks or moisture end up affecting the whole structure. You will be all too familiar with tight schedules, high time pressures on-site and the inevitability of inclement weather. Under these conditions, classic waterproofing systems soon reach their limits. Contractors, therefore, need to look at alternative waterproofing materials such as the reactive sealants of the Expert Proof product family. The liquid waterproofing membrane addresses these issues. Liquid membranes form a fully bonded, seamless waterproofing layer that avoids welds and seams which typically represent the weaker spots in any waterproofing system. A liquid waterproofing membrane is essential for protecting many building structures. These flexible membranes are hand or spray applied onto surfaces such as balconies, podium decks, green roofs, basements and other concrete substructures. The benefits of this membrane lie in its simplicity to apply.



Why select Liquid Applied Waterproofing Membrane?
Elongation properties
Durability
Flexibility
Abrasion and chemical resistance
High elasticity
Easy application
Only a professional and reliable structural waterproofing system can provide the right kind of long-lasting protection from moisture and rising dampness. The demands made on the material are just as high as those placed on the workmanship. MC- Bauchemie Roofex® 2900PM system is perfect for that. It is a single component Bituminous emulsion modified aliphatic polyurethane-based liquid applied membrane specially designed for waterproofing of concrete structures subjected to high flexibility. It is an elastic membrane forming material, hence it can provide good crack bridging up to 2mm in concrete.
Advantages of Roofex® 2900PM
Roofex® 2900PM provides an excellent water vapor barrier for the concrete structure. It forms a seamless, durable film with suitable bonding with Concrete, Cement Concrete blocks etc. It is self-cure and its curing time depends on the type of substrate, air temperature, humidity and thickness of layer. Any protective screed should be done after 24 hours of the application.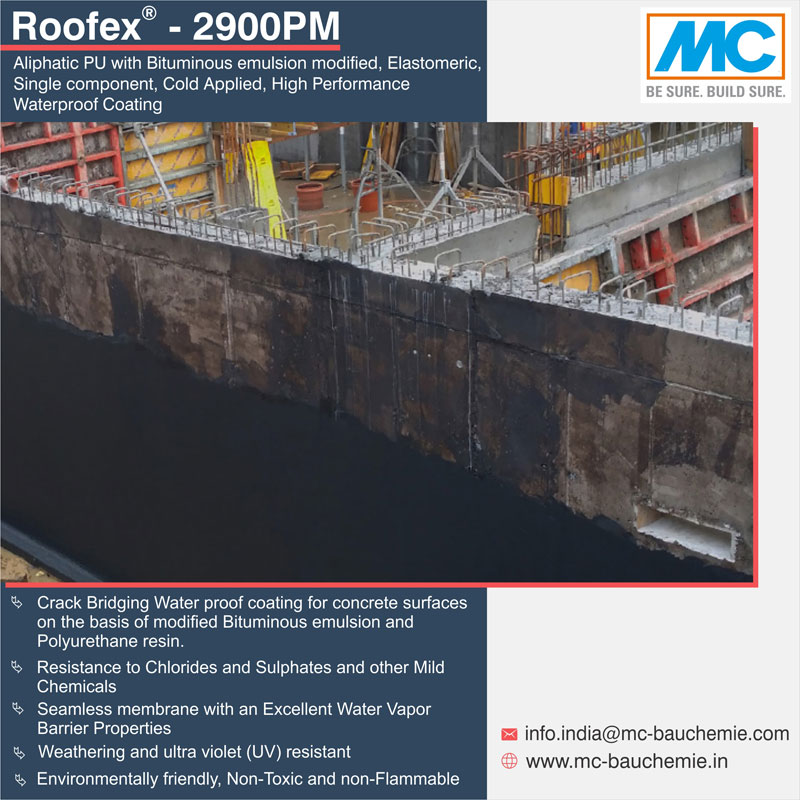 Areas of applications
Roofex® 2900PM can be applied by Nylon bristle brush, Roller or squeegee Depending upon the substrate. Application of Coating should be commenced on the Surface Saturated Dry condition for better workability. If the surface is Dry enough or if the surface temperature is more than 3500C then before application all the surface should be moistened by help of water to bring the surface into SSD condition, Its application areas include;
Waterproofing for Roof Gardening for both old and new roof
DPC waterproofing during new construction
Balcony, Terrace, Parking area, swimming pool, wet area Waterproofing.
Foundation, retaining wall, Basements and other Concrete Substructures.
Seamless waterproof coating for water retaining structure like sewage tank, Firefighting tank, utility tank, sunken areas and inverted roof
The liquid waterproofing membrane provides optimized performance and importantly longevity. Liquid waterproofing membrane comes in liquid form and after application, it dries to form a seamless barrier to water.
With the polymer-based coatings of our Roofex range of systems, you can be sure of a seamless, jointless and permanently flexible waterproofing solution.MC- Bauchemie India offers specifiers, planning engineers, clients and applicators timesaving, cost-efficient and reliable solutions specially formulated to meet the requirements described above.
To explore their full range of systems, visit: www.mc-bauchemie.in or call at +91 22 2757 0803 and benefit from their expertise!