MC-Bauchemie has decades of experience when it comes to developing innovative systems for the protection and restoration of buildings.
PU Injection Grouting for concrete & subsoil application
Every RCC building and structure is designed for a specific type of loading and different types of environments. Hence after some time these structures need periodic maintenance and strengthening. Hence it is essential to restore the strength of concrete structures by assessing and restoring damages and defects. Different defects might occur, but one common problem is cracks and fall of plaster in the core section of the concrete. The requirement herein is the structural strengthening with PU injection grouting. It is used for sealing the cracks, open joints, voids, or honeycombs, in concrete or masonry structural members. This is done under pressure with a grout material that cures in place to produce the desired results like restore structural integrity, prevent water ingress and sealing the crack.
PU Injection grouting is necessary for the following purposes:
To restore damaged concrete surfaces
To waterproof and strengthen tunnel linings/structures
To avoid seepage of water in stone masonries
Settlement of foundation
Repair and retrofit unreinforced masonry
Depending on the size of the crack, and the result required, various types of products are utilized. MC- Injekt 2700/ 2700 L IN are two such injection grouting manufactured by MC-Bauchemie. These are 2 component injection PU based Duromer resins that cure a waterproof resin body. These injection resins can be injected into subsoil with and without water stress. They fulfill high water hygienic requirements., in contact or when mixed with water, the duromer resins are converted into solid and closed-cell foam.
Features of MC-Injekt 2700 / 2700 L IN
MC-Injekt 2700 / 2700 L IN are force transmitting Injection resins used for concrete, brickwork and subsoil, its features includes;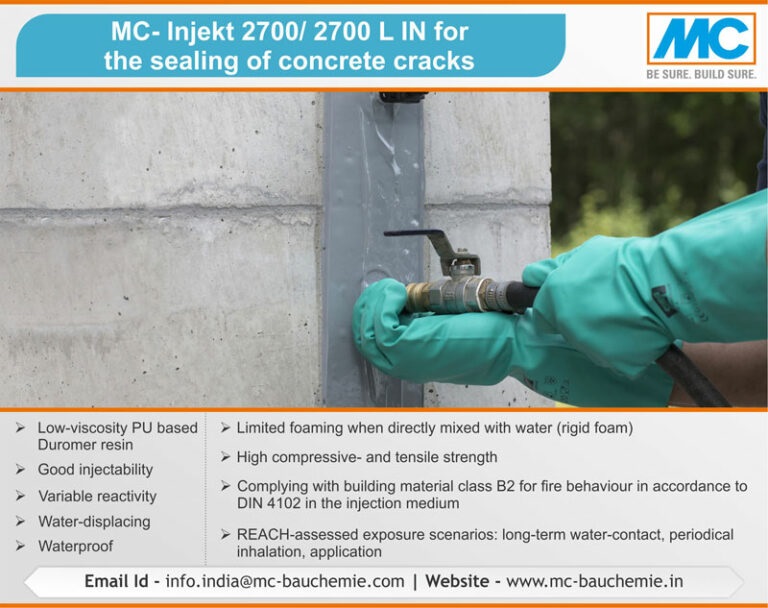 Applications of MC- Injekt 2700/ 2700 L IN
Before each application, the injectivity of the structure or the subsoil must be checked and an injection concept is to be defined. Its application area includes;
Sealing and reinforcing cavities and cracks structures made of concrete, masonry and natural stone in building construction, hydraulic engineering and general civil engineering
Sealing of construction pit enclosures
Solidification of subsoil in special foundation engineering
Increasing the load capacity of subsoil under floor slabs and foundations
Sealing of rigid joints in structures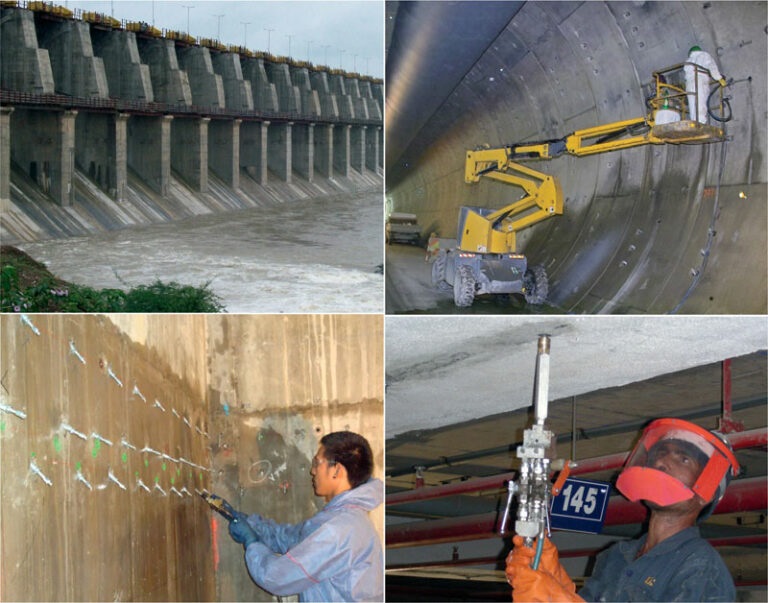 The right selection of PU injection grouting products is pivotal for building and structures. MC-Bauchemie has decades of experience when it comes to developing innovative systems for the protection and restoration of buildings. Whether you wish to restore or enhance the structural integrity or seal cracks and surfaces against the ingress of water, MC-Bauchemie can offer the appropriate systems and materials. In addition, the organisation provides a competent consultancy and advisory service at all project stages. To explore their full range of PU injection grouting products, visit – mc-bauchemie.in/products/injection-system
MC-Bauchemie (India) Private Limited
B-501, Shelton Sapphire, Sec 15, CBD Belapur, Navi Mumbai – 400614
Phone +91 22 2757 0803
Email: info.india@mc-bauchemie.com