MC supports you in the rehabilitation of potable water tanks and transport piping with a comprehensive product portfolio.
Surface protection coatings for potable water storage tanks
The supply and disposal of water take on a special importance. Potable water is largely extracted from groundwater resources, although sources like lakes, valley reservoirs, spring water and bank filtrates are also important. The water obtained from these sources is treated in waterworks, ducted for storage to water tanks and towers, and from there further supplied to consumers via a network of piping systems. Once it becomes wastewater, it is taken, partly mixed with precipitation water, via the sewerage system to treatment plants where it is filtered and returned to the waterways. Potable water often has a damaging effect on the fabric of storage structures. The mineral content of the water can be particularly critical. Very soft water, i.e. water low in minerals, attacks unprotected concrete like a solvent. This leads to leaching of the binder and causes consequential damage that can extend into the core and thus adversely affect structural stability.
The modern mineral coatings, applied as a surface protection layer on the concrete, ensures such requirements are safely met. MC-Bauchemie, has developed the mineral and cement-bound coating systems of the MC-RIM PW family with integrated DySC technology specifically to meet the higher requirements encountered in water tank applications. In DySC® technology a specially formulated layered silica serves to stimulate additional crystallisation in the remaining cavities. This leads to further mineralisation of the cavity structure and from the pore solution gels form in the alkaline area that further consolidate and seal the matrix.
MC RIM PW contains selected latent hydraulic and pozzolanic binder components which, together with an especially controlled particle size distribution, create a structure characterised by highly dense sphere packing. The MC systems especially developed against aggressive media are known for the highest resistance and fulfil important requirements regarding the durability of the surface protection. MC-RIM PW 101 and MC-RIM PW 301 surface protection coatings are high-performance mineral-based systems that offer an inherently high level of chemical and mechanical resistance. The continuous process of post-compaction that occurs in them ensures maximum durability and reliability. The portfolio is rounded off by a concrete replacement system MC-RIM PW 201.
The mineral coating system MC-RIM PW is specially developed to meet the high demands of potable water containers and offers a hitherto unequalled density and life expectancy, providing a maximum of security coupled with long-term protection
MC- Bauchemie Surface protection coatings product range for potable water storage tanks
MC-RIM® PW101- Pure mineral high-performance coating for drinking water areas
MC-RIM® PW 301 – Pure mineral high-performance coating for horizontal surfaces in drinking water areas
MC-RIM PW 201- Special concrete replacement for repair in drinking water areas
MC- Bauchemie Surface protection coatings in potable water storage tanks applications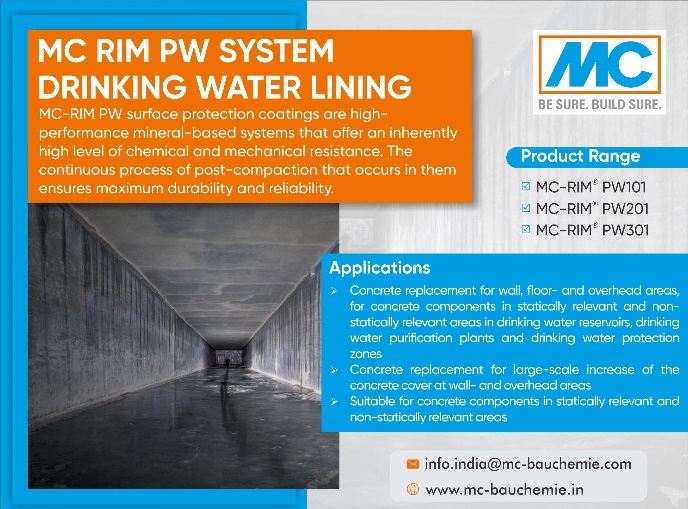 Potable water is our most important source of sustenance and hence demands special protection. In the water cycle, from extraction to purification and treatment, it passes through numerous facilities, keeping the storage in potable water tanks with prime importance. Potable water can also damage the unprotected concrete of potable water tanks. A high-strength concrete may also be attacked, for example, by water with a low mineral content or by its abrasive action. Leaks in potable water pipes are also commonplace and can sometimes lead to major water losses. MC supports you in the rehabilitation of potable water tanks and transport piping with expert, tailored and personal advice backed up by a comprehensive product portfolio.
MC- Bauchemie India offers specifiers, planning engineers, clients and applicators time-saving, cost-efficient and reliable solutions specially formulated to meet the requirements described above.
To explore their full range of systems, visit: www.mc-bauchemie.in or call at +91 22 2757 0803 and benefit from their expertise!