MC- Bauchemie product is a ready-to-use, colourless, hydrophobic impregnation agent with deep penetration ability
Why is hydrophobic impregnation important for concrete protection?
Exposure to environmental elements can lead to the ingress of water, moisture, chlorides and chemicals in concrete which can lead to corrosion of reinforcement and loss of structural load-bearing capacity. Therefore, it is necessary to protect concrete structures against the ingress of such elements- and with hydrophobic impregnation, such damages can be prevented.
Hydrophobic impregnation is used to protect porous concrete surfaces from moisture penetration, heavy weathering, and water ingress. This in turn helps to produce a water-repellent surface, which not only keeps water out and thereby prevents the ingress of aggressive water-soluble chlorides and sulphates, but also minimizes the growth of algae and moss.
Hydrophobic agents are available in paste or liquid form and can be applied on the concrete surface using a roller. As this is impregnated into the concrete surface, there is little or no change in the aesthetic appearance of the structure. Hydrophobic agents can be applied on various surfaces such as masonry, concrete, natural stone and other mineral surfaces on both- horizontal and vertical surfaces.
Emcephob SH is a ready-to-use, colourless, hydrophobic impregnation agent with deep penetration ability. It forms a hydrophobic zone on the concrete surface which greatly reduces the amount of water absorbed. As a result, the concrete surface remains dry and is less susceptible to consequent damage mechanisms.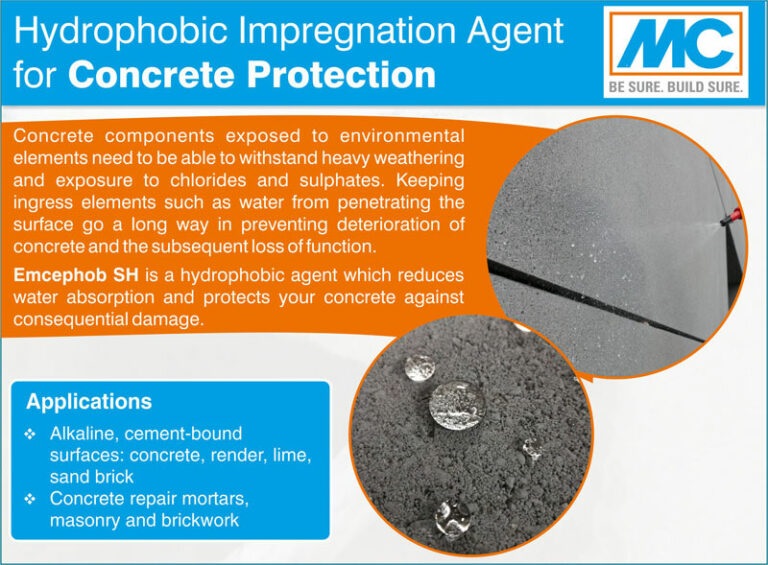 Properties of Emcephob SH
Optimum protection of facades and splash zones from pelting rain and precipitation moisture through water-repelling effect
Water-based and solvent-free
Delivered in 1-component, ready-to-use consistency
Does not seal surface pores and maintains the original breathing ability of concrete
Water-repelling effect combined with water vapour diffusion allows interior surfaces to remain dry under all weather conditions
Prevents damage of masonry exposed to the aggressive atmosphere, especially by frost
Prevents efflorescence and inhibits the growth of moss and fungus
Effective within 2 hours after application
Impregnation effect by Emcephob SH is unaffected by rain
No change in colour or structure of treated surfaces
With hydrophobic agents of MC- Bauchemie, you can protect concrete exposed to environmental elements. They strengthen and consolidate the surface of your concrete, reduce water absorption, decrease the danger of frost damage, minimize the growth of algae and moss and accentuate the character of concrete. To explore the full range of MC-Bauchemie's hydrophobic agents & impregnation products, please visit our website: www.mc-bauchemie.in or call us at +91 22 2757 0803 and benefit from our expertise!